Welcome to the second part of my 3-part series, recounting what I've learned about Permaculture after a dozen interviews and half a year of podcasting.  
In part one, we visited my first 3 guests and the humility of beginning my learning curve.  
In this installment, we're going to visit our trip to the Caribbean coast and some of the players that we met along the way.
We picked up tips on:
Holistic horse care

Pivoting toward our passions

Food forest maintenance

Establishing cottage industries

The ancient roots of cacao and the fine art of chocolate alchemy

and more!

Before we dive in, though …
A Big Thanks to My Sweetheart for Joining Me on this Journey!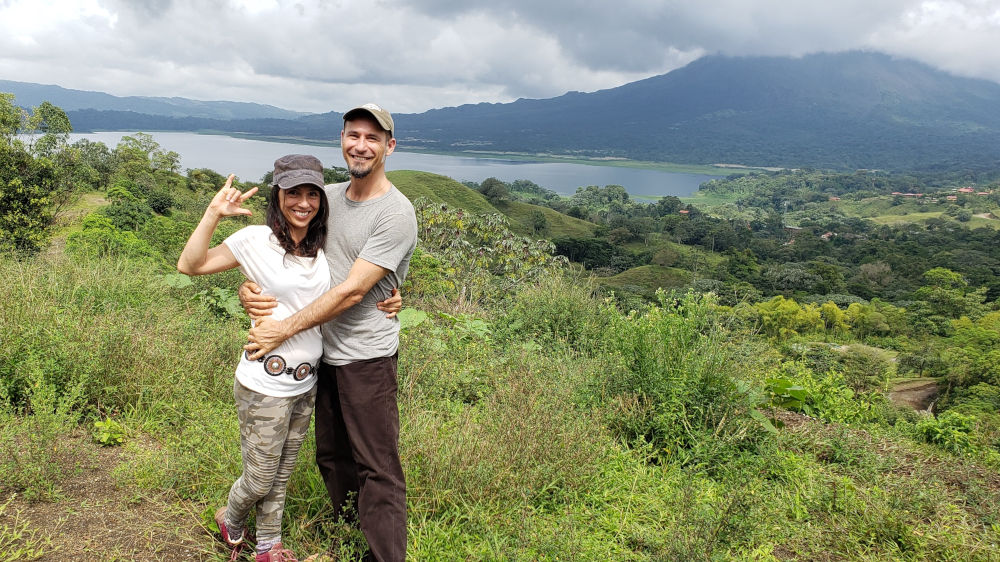 At this point, I'd like to express a word of gratitude to my partner, Chela Rie, who accompanied me on the adventure.  
In many of the interviews, you might hear me talking with my guests, making references to "we" and "us."
Chela was at my side through that first round of interviews for a show that didn't exist.  
She was my chauffeur, camera person, muse, songstress, confidant, and best friend.
Chela's been at my side since the day I thought of doing a podcast supporting me, and our life on the farm, in a way that brings an extra layer of joy to life. Thanks, baby!
The rest of the season's interviews were recorded along this two-week trip around the country. 
Raising Horses with Compassion and Connection
The journey began with an all-day traversal of the country from our farm in the south pacific, Costa Rica, up and around to the Caribbean town of Puerto Viejo.
After a long drive, a good rest, and a morning dip in the ocean, our first stop was a unique retreat center called Kindred Spirits.
Terry Lillian Newton is the proprietor of the project who's interwoven equine therapy with her yoga and mindfulness retreats.  
If you don't know what equine therapy is, it refers to the use of horses and their unique presence as a therapeutic tool.

Terry shared some valuable tips for working with horses that I hadn't come across before.  
One interesting bit was that it might be best not to shoe one's horses in many terrains.
It can increase the likelihood of infection and other disorders.  The tropics happen to be one of those environments.  
What struck me most with Terry is her focus on taking the time to connect with the nature of the horse, as a priority, before and during all interactions.  
Like so many things in our lives, a subtle yet stark difference can be experienced when we approach these animals with a sense of investigation and connection instead of pre-judgment and separation.
How to Introduce a Horse into Your Project
If you decide to have a horse in your project, plan for an open space with various grasses, herbs, and fruits with flowers planted around their area or along the perimeters.
Unshoeing your horse will promote two things; optimal health and low maintenance cost.
One crucial step to take before involving your horse in any activity on the land is establishing a cordial relationship with it. 
Build a deep connection with it by hanging out and bonding with it. Do this even before you start training it. It will facilitate the training process.
What to Do When You Lose Interest in a Project
Before you find your passion for something, you may have to try your hand on a few transitionary projects, along the way. 
While this can be time-consuming, it's worth going through the process to discover what you truly love doing.
According to Terry, if you're not in love with what you're doing. It makes sense to consider remodeling your business plan and connect it with your passion. 
It will increase your chances of discovering what you love to do most and may even help you turn it into a source of income.
An Incredible Botanical Garden Buried in a Dense Patch of Forest
The following day we arrived at Finca la Isla for what would turn out to be a very long day. 
We were there to visit both Peter Kring and Ancel Mitchel for two separate interviews.  
It's always exciting to pull up to a new farm, not knowing what lies beyond its gates.  
To enter the property, we had to drive over a very narrow, very old-looking concrete bridge that led up through a dense patch of forest, opening up to a couple of shade structures filled with bromeliads and potted trees. 
Beyond that was a modern-looking house with the customary barking dog announcing our arrival.

Peter is a different kind of person than my previous few interviewees. 
He has a calm, stoic nature that left me with a feeling that he's the kind of person who pays close attention to things. 
Grant it. This was the first time I was visiting someone I hadn't met before.  
I contacted him by email, he agreed to be on the show, and I was now in his driveway.  
Nonetheless, Peter was incredibly welcoming, showing us around his expanse of botanical gardens and nurseries where he propagates a wide variety of fruit trees, most notably, durian.  
After the tour, we went up to one of the cabins on the property to record the interview.  
Peter is a bit of a genius.  At the least, it's an understatement to say that he knows his plants.
Some Mistakes Foreign Landowners Make, And How to Avoid Them
One of the things that I appreciated about what Peter shared is the sentiment that for foreign landowners to make a significant impact on the opinions of our Costa Rican neighbors in the way of encouraging them to go organic or make any other changes to their practices, we have to show them that we're doing it in a profitable way.
The hard truth is that most foreign landowners, investing their savings into creating sustainability projects down here, fail to make it sustainable.  
When our neighbors see us pouring money into our pet projects, funded by some outside source, they tend to be slow to take us seriously. If they ever do.
The Lost Element of Permaculture
Creating a viable cottage industry business to support the farm's operations is an element of permaculture that many permaculturists fail to execute.  
Sometimes it's due to a lack of will, and sometimes it results from poor design.
Either way, it offers little encouragement for skeptics to make significant changes in what they're doing. 
We need to start building financial sustainability into our ecologically regenerative projects if we're to make the impact we intend.
Don't Get Me Wrong
I'm, of course, not saying that a project should focus on profits as its primary goal.
I am saying that, without a positive revenue stream of some sort, most projects fail to make the impact they intend, if they survive at all.
Food Forests: How They're Planted & Their Benefits
Peter plants his food forests in 1-3 acre lots divided by rainforest corridors for wildlife to pass through. 
This planned diversity of texture amidst your different planted areas contributes to the health of the soil.
A good food forest design aims to mimic nature by planning various layers of biomass intended to complement each other. 
Just imagine all of the vertical layers of a forest. For example, ground covers, herbs, shrubs, small trees, and tall trees.
Along the edge stand the tallest canopy trees that grow inward. Similarly, smaller trees appear from beneath these trees to catch the rays of the sun.
How Food Forests Work
Like a natural forest, food forests care for themselves by covering the soil with dried leaves, flowers, and ripened fruit that drop on the ground. 
It helps retain soil moisture. The high plant density in food forests creates a high volume of fallen leaves that pile up and decompose to add organic matter into the soil.
A group of decomposers like slaters, pillbugs, woodlice, millipedes, and earthworms facilitates the process of decomposing.
Remember this …
When taking the harvest, you need to put something back for the tree.
In Peter's interview, he discussed several minerals the tree needs and encouraged us to consider adding them in generous quantities.  
Common elements tend to be:
Biochar

Calcium carbonate / Rock Phosphate

Manure

Worm compost
You Can Make Money
The farm is a business, and you need to set priorities to sustain it in that way.
It's essential to show your neighbors that it can make money if you want to get their attention. 
Many of the locals that Peter influences are those that come to his place to buy trees. They see what he's doing and start to ask questions. 
A food forest can be turned into a food tourism place that serves as a source of income.
A Small Chocolate Laboratory Located Deep in the Forest
After thanking Peter for the generous amount of time he spent with us, we left the property, traveled about 200 meters up a dirt road, and unloaded the equipment again.  
This time, to spend some deliciously delightful moments with Ancel Mitchel, chocolatier and founder of Talamanca Chocolate. 
Ancel had scheduled us to come by for an interview later in the afternoon because she had students with her all day, learning how to make chocolate elixirs, of which I was grateful to sample the results. 
We were offered to try an assortment of thick and bitterly delicious cocoa drinks with varying flavors.  
Even though she'd been teaching all day, after a short break to share a hearty meal of soup, sauerkraut, and homemade sourdough bread, we poured another round of liquid cacao elixir and broke out the mics.  
Ancel is a storyteller, among many other trades. She's a carrier of traditions and an alchemist that weaves them together with contemporary humor and diverse points of reference.  
Ancel has a particular appreciation for ancestral traditions. She began her journey as a cacao confectionist with time spent among the Bri-Bri people whose relationship with the plant far exceeds the time of the conquistadors and their insistence that all people perceive the world in the same way they do.
The Benefits of Community Interdependence
Interdependence among communities helps strengthen alliances and also brings diversity and resilience into the mix. 
For example, if compost scraps are materials that you use a lot in your project but seem scarce in your community, getting in touch with neighbors that produce it but consider it a waste will help you collect their waste and use it in your project. 
The cooperation between you and your neighbor may lead to a win-win relationship in the future.
Another great way to build a lasting relationship between communities is through skill sharing.
One Crucial Way to Learn Something
One of the best ways to learn something is to apprentice in a craft.
Offering an apprenticeship program, if implemented effectively, can build a solid and valuable structure in one's daily life, not to mention some invaluable help in keeping things moving forward.
While this may sound easier said than done, the most important thing is to start.
Just dive in and bring a little magic into what you do. If it doesn't work out according to your plan, pivot.
Our visit with Ancel was an absolute joy!
After a long day of recording two back-to-back interviews and a couple of farm tour videos with Peter. We were excited to get back to our cabin for a well-deserved rest.
Gotta' Visit the Beach!!!
With a few more interviews in the bag, I sent them off to my editor and kicked back for a few days to enjoy some time to soak up some sun, drink some coconuts, eat some tacos, and play some music at the beach.
Chela carries a ukulele on trips like these, and my djembe and jaw harp love to join in for a joyful noise!
It was also nice to take a few days to catch up with our online permaculture classes, virtual assistant management, and a long-anticipated dinner with some friends of ours that we have over there.  
The night before we left, we got to catch Ancel's storytelling performance on the beach.  It was super cool!
If you'd like to get swept up in some ancient mythology told through a contemporary lens, check out the recordings that I made that night of Ancel telling the stories of Tatterhood the Princess Twin, or Demeter & The Old Crone.
You can see that and more on our YouTube channel under the Extra Bits playlist.
I hope you've enjoyed the journey through this wonderful land.
If any of these visits sounded like something you'd like to hear more of, make sure to take a listen.
Follow the third installment of our story, as we cross the northern part of the country, visiting another round of inspiring projects and the insights shared along the way.
Leave a comment and let us know how you're transforming your dreams into impact!